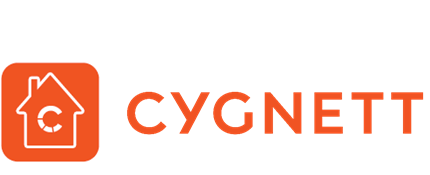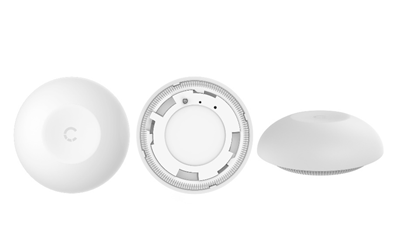 Smart Control Button
User Manual
Your Cygnett Smart Control Button is a minimal and aesthetically pleasing button that can automate a scene with just a single click of a button. Save up to 3 scene automations, and activate it with a single click, double click or long press.
Contents
Welcome to Cygnett Smart Home
Cygnett Smart Home is an ever-expanding collection of connected home products.
Synonymous for creating better digital experiences through design and innovation, Cygnett Smart Home affords you the convenience and freedom to connect your appliances, lighting, climate control and security to a centralised app.
Warning
Before replacing/installing your Cygnett Smart Home device, please read and follow all precautions, including the following:
Suitable to operate between 0°C to 45°C
This product is intended for indoor use only; do not expose to wet environments.
This product is not a toy and should not be played by children
This product is not suitable for water contact
This product contains a coin/button cell battery inside. Keep batteries out of reach of children. Swallowing may lead to serious injury or death in as little as 2 hours due to internal burns.

If swallowed, immediately call the 24-hour Poisons Information Centre on 13 11 26 (in Australia) or 24-hour Nationals Poisons Centre on 0800 764 766 (in New Zealand) for fast, expert advice. Dispose of used batteries immediately.
This product has been designed so that the coin/button cell battery is not accessible to young children, as the battery compartment cover is secured with a screw or mechanical fastener. Always ensure that the compartment is secured before use.
Installation
Cygnett Smart Home devices only support 2.4GHz Wi-Fi networks. The Smart Control Button requires a Cygnett Smart Hub + IR Remote Control to function.
Ensure that your Cygnett Smart Hub + IR Remote Control* is set up correctly. For further information on how to set up your Smart Hub + IR Remote Control, please refer to the installation guide on Cygnett Care – support.cygnett.com
Using the included screwdriver, unscrew the screw and remove the backplate of the Smart Control Button.
Remove the battery pull tab and screw on the backplate using the screwdriver.
Ensure that your phone/tablet is connected to the same Wi-Fi network as your Cygnett Smart Hub + IR Remote Control.
Using the pin tool provided, press and hold the pairing button on the Smart Control Button for 5 seconds until it flashes to activate pairing mode.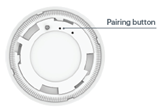 Select the Cygnett Smart Hub + IR Remote Control device in the Cygnett Smart app and select the '+' icon.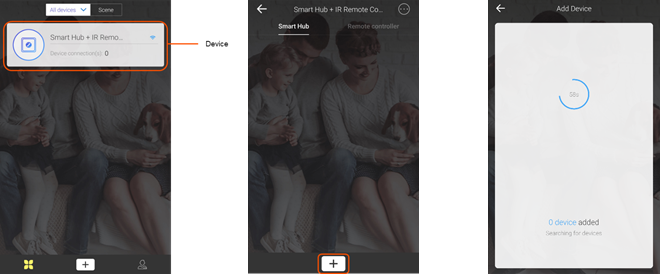 Follow the in-app instructions. After your Smart Control Button has been registered, give it a name through its Settings, and tap Complete.
Your Smart Control Button is now ready to be used.
With your Smart Control Button, you have the freedom to move it around your home. If you choose to mount/install it on a surface, please use the included adhesive tape.
Firstly, remove the first layer on the adhesive and apply it on the bottom of your Smart Control Button. Proceed to remove the layer on the other side and mount/install it on a clean and convenient location free from dirt within 40m of your Cygnett Smart Hub + IR Remote Control by firmly pressing and holding down for 30 seconds.
For examples on where your can place your Smart Control button, please refer to the below.

*Cygnett Smart Hub + IR Remote Control is not included and is sold separately if the Smart Control Button is purchased separately from the Cygnett's Smart Home Starter Kit.
Maintenance & Disposal
Before any cleaning, remove your device from all power sources. To prevent any scratches from occurring, use a soft dry cloth and do not use any cleaning agents.

This symbol on the product indicates that this product shall not be treated as household waste. Instead, it shall be sent to the applicable collection point for the recycling of electronic equipment. By ensuring this product is disposed of correctly, you will help prevent potential negative consequences for the environment and human health. For more information about the recycling of this product, please contact your local city office.
Compliance
Item No: CY2965CHCSA
Input: CR2450 3V battery
Battery Lifetime: >6 months
Working Range: 40m to Smart Hub + IR Remote Control (open area)
Specification: ZigBee
Cygnett Smart Home Screen
Your Cygnett Smart Home screen is the centralised view of all your smart home devices. With one simple touch, you can turn on or off your devices remotely, receive live information from your home and so much more. Possessing an intuitive user interface, all you ever wanted to do with your devices is only one tap away.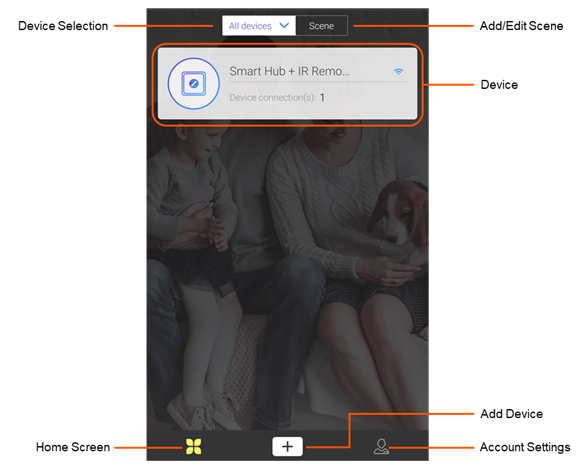 Smart Control Button Features
To access your Smart Control button, tap on your Smart + IR Remote Control in the Cygnett Home Screen, then select your Smart Control Button.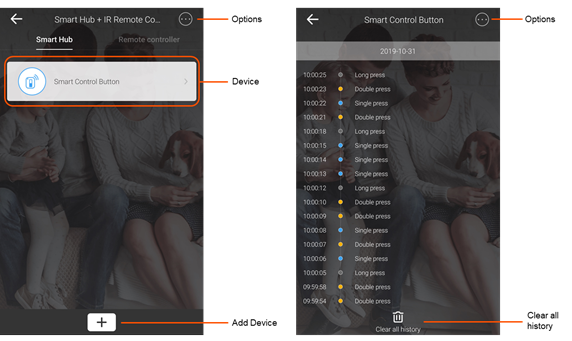 Your Smart Control Button has 3 programmable functions, that can work together with your pre-existing Cygnett Smart Home products to create a scene. Its three programmable functions can be activated through a single click, double click or long press. For information on how to create a scene with your Smart Control Button, please refer to the 'Create a Scene' user manual on Cygnett Care – support.cygnett.com
On the Smart Control Button main screen, you will see the activity log of when and how your Smart Control Button was pressed. To clear your activity log, tap 'Clear all history'.
Options
For settings and information on your Smart Control Button, select the Options icon. There are 2 selections in this section – Settings and Delete. The Settings option will display information regarding your device, and you can rename your Smart Control Button by selecting the

icon. To delete all saved information regarding your Smart Control Button, press Confirm.
Account Settings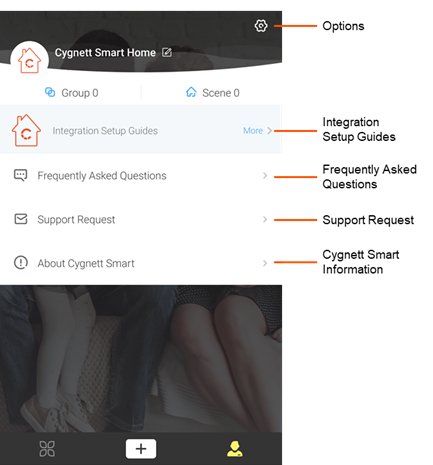 Options
In the Options screen, you can change your password under 'Security' and following the in-app instructions. You can also select available languages in your region under 'Language' and elect to turn on or off your haptic feedback under 'Vibration Switch'. You also have the option to log out of your Cygnett Smart app by tapping 'Log Out'.
Integration Setup Guides
In this section, you can find instructions on how to integrate your Cygnett Smart Home devices with Amazon Alexa, Google Assistant and Apple HomeKit.
Frequently Asked Questions
The most frequently asked questions are all listed here for your troubleshooting needs. This page is constantly updated, so you will receive the most up-to-date news and feedback.
Support Request
This is the direct link between you and our dedicated team at Cygnett Care who will answer your questions and concerns regarding your Cygnett Smart Home device.
To download a copy of this user manual, please click the below link.
Cygnett and the Cygnett logo are trademarks of Cygnett Pty Ltd. Google, Android and Google Play are trademarks of Google LLC. Other brands and product names are trademarks or registered trademarks of their respective holders. Made in China. Cygnett takes no responsibility for damages caused by incorrect use of its products. All products comply with RCM standards.
© 2019 Cygnett PTY LTD.
Cygnett Head Office
858 Lorimer Street, Port Melbourne, Victoria, 3207, Australia